Summer is exciting. Vacations are happening, trips to the lake are a regular occurrence, and you are packing in as much swim time as possible. But with all these good times and physical activities, there is the potential for injuries – both major and minor.
Muscle Flexibility & Strength Reduce Risk of Injury
Injuries come about when the body is not flexible, strong and functioning at its best. Fatigue can lead to many injuries and systemic problems. When our muscles are fatigued they are sore, achy, and tight. This can lead to sprain/strain injuries to the muscle and ligaments in the back, neck and extremities.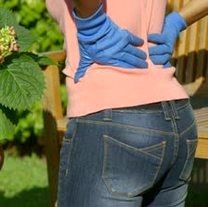 With all of your summer goings on – family reunions, all-day bar-b-ques, concerts, festivals, days at the lake, the pool, strawberry picking, gardening, boating, fishing, playing sports and more a pulled muscle is not out of the ordinary, especially on days when you are staying active. Summer sports, trips to the beach, and water workouts will frequently lead to pulled muscles if you do not stretch and prepare accordingly.
Our Team Gets You Back to Fun!
If you do pull a muscle, or suffer an injury this summer, come see our team to get you not so much back to work as much as back to fun!  There's no need to be hobbling around at the family reunion because you pulled your back trying to reel in the 20 pound Lake Trout (although it makes for a great fishing story).  First call Superior Spine Care for a patient evaluation where Dr. Neil will determine if your injury will benefit the most from Chiropractic Techniques such as adjustments and spinal decompression therapy performed by Dr. Neil, Therapeutic Massage to release and realign your muscle fibers performed by our Licensed Massage Therapist, Nikki, or rehabilitation and physical therapy by Chrissy to strengthen problem areas and reduce the risk of re-injury.
Either way, get back to fun faster by calling us at 440-716-8400 or using our contact us form to tell us more about your injury and how we can schedule an evaluation.