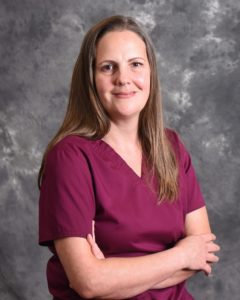 Massage Therapist
Dianna Martin, LMT
Dianna is a local Licensed Massage Therapist who earned her certificate from Cuyahoga Community College who believes that communication and trust are just as important as hand skills in developing a therapeutic relationship with her clients. She treats each person as a unique individual and not just a list of symptoms, and incorporates a variety of massage therapy techniques to provide the most effective results for each person.
Dianna is driven to help each patient reach their goals and is dedicated to working with her patients to tailor the best, most effective treatment plan. She is passionate about being the best massage therapist possible and continues her education in various massage techniques and by exploring different ways to best help those dealing with pain and discomfort.
Massage therapy has helped her to develop better body awareness and a greater level of respect for the body.  She enjoys relaxing with a cup of tea or coffee, walking around the neighborhood, random road trips, Cleveland Guardians games and spending time with her niece and nephew.
Read about the types of techniques Dianna utilizes in her practice here.
Read Our Massage Therapy Reviews
"Last time I was there I had a terrific massage. The massage therapist was tops / wonderful. Would ask for her again."
"...Through massage therapy and spinal adjustments, Dr. Neil and Nicole have relieved me of my stress headaches and migraines. Every visit is an enjoyable one and my daughter is even benefiting from their PT services!"
"I have suffered from tension and knots in my neck and upper back and he has helped to alleviate much of the stiffness and pain. His office staff are very nice and the massage therapist is excellent. Highly recommend!!"
"Have had several massages at Superior Spine and have had a very good experience and left feeling great."
"Top notch service and a real difference maker for my chronic lower back and leg pain. The chiropractor and massage therapist are the best I've worked with."
"Neil really listened to me and understood the type of chiropractic care I wanted. Nikki is a phenomenal masseuse. She has the perfect touch. I honestly have not felt this good in a long time. Thanks to Courtney for looking into my insurance coverage and explaining everything to me. I highly recommend Superior Spine Clinic!"