The Thompson Technique
One of the most popular methods of spinal manipulation is the Thompson Technique, first introduced by Dr. J. Clay Thompson and patented in 1955. The Thompson Technique has shown to be useful for those sensitive to the Diversified Technique because the Thompson Technique utilizes a specially-designed "segmental drop table" that absorbs some of the force being applied to the joint or segment during the manipulation. The segmental drop table "drops" slightly underneath the patient upon application of a force through the joint in order to reduce stress on the body and increase movement within the vertebral joint itself. The action of the table segments dropping during the adjustment absorbs some of the force of the adjustment, making it more comfortable for the patient. Most patients tolerate this option very well.
How is the Thompson Technique Different?
For the adjustment itself, the patient reclines on the specialized table, which is set to his or her weight. With the patient's head supported, the chiropractor applies a high speed thrust, using minimal force. The pneumatically-driven table then "drops" slightly to lower the section corresponding to the spinal region being adjusted. This facilitates the adjustment and carries the joint through its normal range of motion, allowing full correction of the segment while applying less torque and force than would be needed without the special drop-table.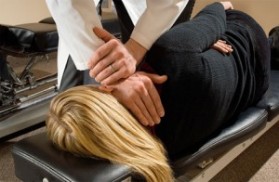 Benefits of the Thompson Technique
The primary benefits of the Thompson Technique are the same or similar from other chiropractic manipulation and adjustments and include: improved posture, strength, flexibility, and performance as well as greater resistance to injury in the adjusted area. Patients also report improved ability to sleep and relax, reduced aches and pains and increased tolerance to stress. It is not unusual for patients to experience complete relief from their symptoms after only a few sessions.
What Our Patients Are Saying
I used to get migraines frequently, so I thought I'd give Superior Spine a try. I've been going to Superior Spine for close to two years now. Ever since I started getting a monthly massage and adjustment, my migraines have lessened immensely! I recommend Superior Spine!!
I can't speak highly enough of Dr. Wensink's practice. After hurting my back about a year ago, I have been visiting on a regular basis and they are always accommodating with scheduling. Dr. Wensink takes the time to get to know you as a patient, and asks thoughtful questions to ensure that his treatment meets your needs. The practice is conveniently located and with occasional Saturdays makes it easy to find a time to visit.
Dr. Neil and his staff provide truly superior care. He is an experienced, very talented chiropractor who carefully investigates and effectively treats painful, complicated conditions. He is thoughtful, kind, and focused. The pleasant office is clean and well managed. He is one of the very best chiropractors I've seen. I highly recommend his practice.
Proudly Caring for Patients from
North Olmsted, Westlake, N. Ridgeville, Olmsted Falls, Fairview Park, Avon Lake, Avon and Surrounding Areas