Back Pain Chiropractic Treatment
If you are suffering from back pain, you are not alone!  It is estimated that at any time, 31 million Americans are having back pain. Fortunately, there are ways to treat back pain and prevent it from reoccurring.   At Superior Spine Care, we provide chiropractic treatment, physical therapy and therapeutic massages to help alleviate the symptoms of back pain, treat the cause of the pain and prevent the pain from coming back.  Our team is committed to providing our patients with quality care for their back pain condition.  We will work with you to determine the cause of your back pain and develop a treatment plan specially for your needs. Contact our office today schedule your appointment.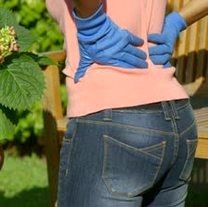 What is the best treatment for lower back pain?
Pain killers and anti-inflammatories can provide temporary relief to cover up the symptoms of lower back pain. Chiropractic, Massage, and Physical Therapy are all effective at treating the source of the pain. Used together, they will produce the best results to correct the problem leading to the pain.
How do you tell if lower back pain is muscle or disc?
While the symptoms can be similar, there are some important differences. Both can be worsened by sudden movement, but disc pain tends to be more constant. Disc pain can travel into the leg, with sharp, numb, or tingling symptoms. Muscle pain will usually resolve in a few days, whereas disc pain will typically get worse without treatment.
Common Causes of Back Pain
It is estimated that at any time, 31 million Americans are having back pain.  Chances are you or someone you know will encounter an episode of back pain at some point in your life.  But what causes back pain?  How is it treated?  And what can we do to help prevent it?  Causes of back pain can vary widely.  Most of us assume it comes from doing heavy lifting.  While that is one possible cause, believe it or not, that does not make up a big portion of the patients we see for back pain.
Back Pain Caused by Inactivity
A common and insidious cause of back pain is sitting.  Many of our patients spend quite a bit of their day sitting at a desk or computer.   Along with being inactive, which can lead to a whole host of health issues, sitting for long periods of time causes us to lose flexibility.  Muscles and ligaments of the lower back and pelvis get tight, and shift our normal alignment out of place.  This can lead to altered movement patterns which can lead to injuries even while doing everyday activities.
Repetitive Motion
Another cause of back pain that often goes overlooked are repetitive motion activities.   When most of us think of repetitive motion, we think of hand and wrist injuries such as carpal tunnel.  But activities that require frequent bending forward can be equally bothersome.  The frequent flattening of our normal curve in the back can put tremendous stress on our spines over time.
Preventing Back Pain: Chiropractic, Physical Therapy & Therapeutic Massage
Fortunately, there is a lot that can be done to help prevent back pain.  Proper ergonomics with our seated positions are important.  This includes lumbar support for our chairs, correct height of our computer monitors, and alignment of our chair height to the desk.  Also remember to check your car seat to make sure it is upright with proper support.  Bending with your legs to reach objects on floor level is essential, even when lifting light weights.
The good news is, no matter how it was caused, back pain generally responds well to chiropractic treatment.  By gently realigning the vertebrae, or the bones in the back, we can improve joint motion.  If there is a significant amount of trigger points, or tender nodules in the muscles, deep tissue massage can help address that component as well.  Once the pain is under control, physical therapy is important to retrain and strengthen the area to help keep the back feeling and functioning better.
Call our North Olmsted, Ohio chiropractic care clinic today to schedule an evaluation and see if we can help with your back pain.
What Our Patients Are Saying
I used to get migraines frequently, so I thought I'd give Superior Spine a try. I've been going to Superior Spine for close to two years now. Ever since I started getting a monthly massage and adjustment, my migraines have lessened immensely! I recommend Superior Spine!!
I can't speak highly enough of Dr. Wensink's practice. After hurting my back about a year ago, I have been visiting on a regular basis and they are always accommodating with scheduling. Dr. Wensink takes the time to get to know you as a patient, and asks thoughtful questions to ensure that his treatment meets your needs. The practice is conveniently located and with occasional Saturdays makes it easy to find a time to visit.
Dr. Neil and his staff provide truly superior care. He is an experienced, very talented chiropractor who carefully investigates and effectively treats painful, complicated conditions. He is thoughtful, kind, and focused. The pleasant office is clean and well managed. He is one of the very best chiropractors I've seen. I highly recommend his practice.
Proudly Caring for Patients from
North Olmsted, Westlake, N. Ridgeville, Olmsted Falls, Fairview Park, Avon Lake, Avon and Surrounding Areas