Chiropractic Care: Special Offer
Are you in pain every day? Is pain keeping you from doing the things you love to do? Not sure if Chiropractic can help? We are now offering a Complimentary 15 minute Consultation with Dr. Neil to answer any questions you may have about Chiropractic Care to learn if it's a good option for your condition! See a partial list of conditions we treat here.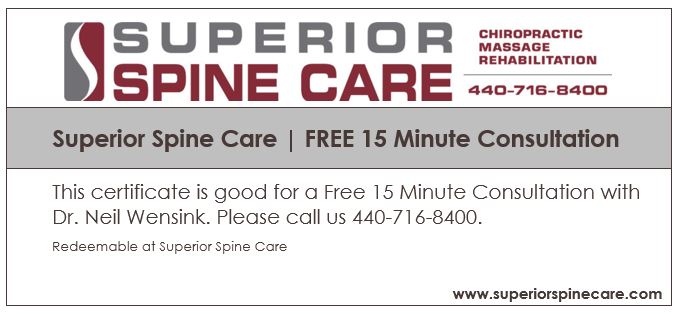 (please note: this is not an examination- if you decide we are the right fit for you, we will be glad to schedule you for an examination at a time that is convenient for you!)
Massage Therapy: Special Offer
Chronic Aches and Pains? Has it been a while since your last massage? Receive your Introductory one hour Deep Tissue Massage for only $59 – that's a 15% savings off our regular price.  You can book your massage online here.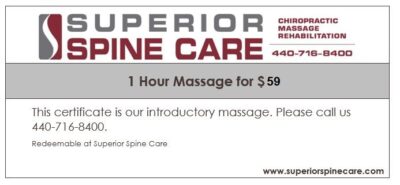 Sports Physical Special Offer
Student athletes in Ohio are required to have a Preparticipation Physical Examination (PPE) before their schools allow them to participate in athletic activities. Each year an updated PPE Form is published by the Ohio High School Athletic Association (OHSAA) and circulated by coaches to collect before students can participate in their sports. At Superior Spine Care we make this process as easy as possible. Download the 2019-2020 OHSAA PPE form here, fill in the first two pages, and Dr. Neil of Superior Spine Care in N. Olmsted will complete pages 3 and 4 of the sports physical. Wondering what's involved? Check out the OHSAA PPE Form to know exactly what to expect in each sports physical. They are typically very brief, 15 minutes, and follow the Physical Exam Form on page 3.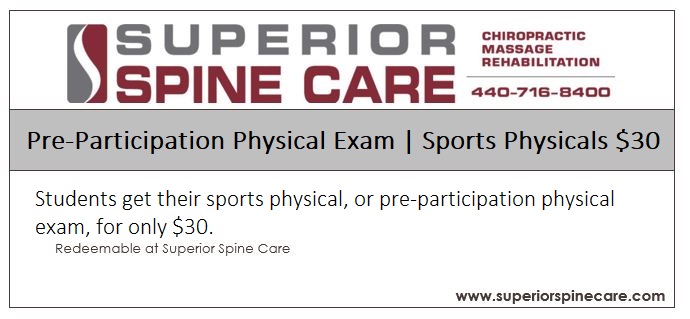 Schedule your sports physical with Superior Spine Care in N. Olmsted and get this $30 special every year.