The goal of a Chiropractor using spinal decompression therapy is to relieve pain and promote an optimal healing environment. The Spinal Decompression Therapy sessions at Superior Spine Care generally last about 30 minutes and are totally relaxing. As a matter of fact, some of our patients fall asleep during treatment. Treatment typically includes a series of 15-30 sessions over a six week period.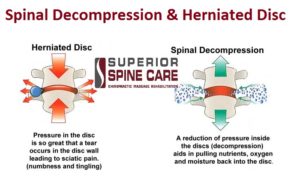 Spinal decompression therapy is non-invasive and entails stretching the spine. The patient is harnessed to a spinal traction table controlled by a computerized device with rollers underneath. This therapy creates low pressure in the disc and negative intradiscal pressure to promote retraction of spinal discs. The lower pressure in the disc generates an influx of nutrients for faster healing. It stimulates the healing of tissues. As the spine is gently stretched, there is a release of pressure on joints, discs and surrounding nerves, including the sciatic nerve. Its computer-controlled system adjust to the proper angle of pull and utilizes a controlled logarithmic curve to decrease friction.
Conditions Treated by Spinal Decompression
Dr. Neil has found spinal decompression therapy to be effective for patients experiencing back and neck pain. It can provide relief from pain due to bulging disc, herniated disc, facet syndrome, spinal stenosis, radiating leg and arm pain, pinched nerves and degenerative disc disease. It is also a common adjunct treatment to manual spinal adjustments. Studies have shown that 86 percent of patients who undergo decompression therapy report immediate pain relief, and 84 percent remain pain free for 90 days after treatment.
If you're suffering from arm, leg, back or neck pain, spinal decompression therapy just may be the solution. Give us a call at 440-716-8400 to schedule an appointment to learn more about this modern treatment modality. We'll identify the root cause of your pain and let you know if spinal decompression is a good choice for your specific condition.