Massage & Therapy. No Unnecessary Visits.
"I can't say enough good things about Superior Spine Care. It was a bit of kismet how I ended up there. I had thrown out my back and was in terrible pain. After calling everyone in town to get a massage, everyone was booked up. I called SSC the next day and got in to see Dr. Neil. He got me on the right path and then I also started seeing Chrissy for physical therapy. Unlike a lot of chiropractic offices who push supplements and unnecessary visits, SCC really wants to get you better fast. On top of their amazing work, they are truly some of the nicest people you would ever want to meet. Courtney (who mans the front desk) is always so upbeat and personable as well. I highly recommend them."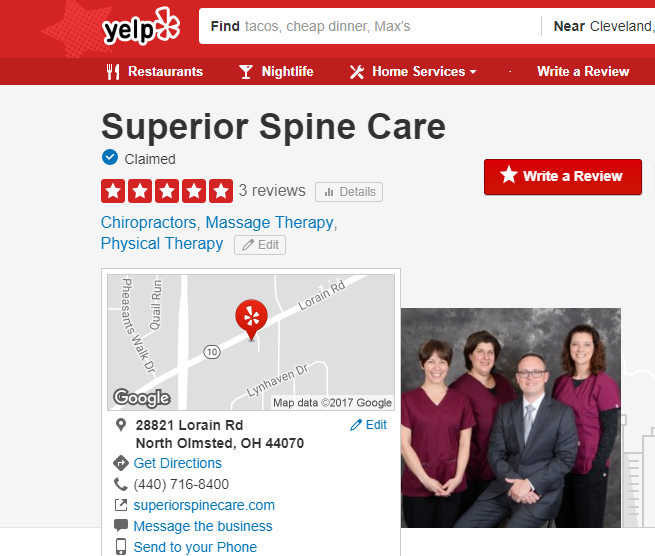 Click on the image of our Yelp reviews to see the review Kathie C. in North Olmsted, OH left for Superior Spine Care.

We know how hard it is to choose the right medical and health professional – whether it's your chiropractor, your licensed massage therapist or your physical therapy and rehab professional. It makes a lot of sense to look for customer reviews, or patient reviews, but it can be difficult and time consuming to search all the review sites. There are reviews on Yelp, Google reviews, Facebook reviews and more.
At Superior Spine Care we search for new patient reviews every month and post them on our website under our Patient Reviews category in an effort to give you a faster, one-stop solution, for you to check our credentials and feedback from patients. If you find a review on the web that we haven't included, please let us know.  Also, if you would like to leave us a review, you can see how important they are to us, please leave your review on our Google+ or GoogleMyBusiness profile – it will get the most exposure in searches for local chiropractors, massage therapists and physical therapy providers.