Patient Review of Chiropractic Care to Support Active Lifestyle
Sports Chiropractor - Brazilian Jiu Jitsu.
"Dr. Neil and his entire staff are phenomenal. I do Brazilian jiu jitsu 4-5 times a week and it leaves my neck and back feeling very sore and stiff most days. It's manageable, but every now and then I have extreme discomfort to the point it sometimes hurts my back if I take a deep enough breath and I can't turn my head in either direction. I went into his office today with that feeling and when I left I was so relieved and my back/neck felt so much better, I felt compelled to leave this review. If you participate in sports, have an active lifestyle or have any type of back/neck pain, Dr. Neil and Superior Spine Care will take great care of you."
Thanks to Trevor Anderson from Avon for the helpful review he left on Google. Trevor works just down the road in N. Olmsted so not only was our Lorain Road location convenient to his home in Avon - it is even more convenient to his office. Click on the image of our Google reviews tab to see the review Trevor and over 40 others left for Superior Spine Care in North Olmsted, OH.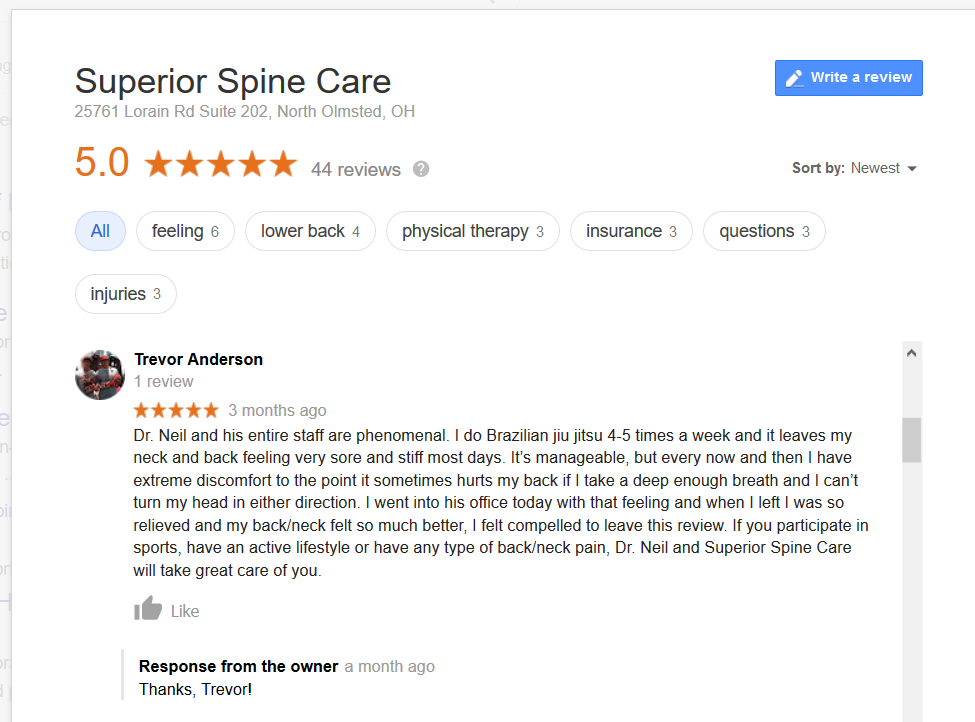 Patient Reviews: Chiropractic Care, Massage Therapy and Physical Therapy
We're proud to have over 50 5-Star reviews throughout Yelp, Google and Facebook.  Click on each logo to open up the reviews page at Yelp, Google and Facebook to read the reviews our patients have left for us.
Leave Us a Review
Patient reviews are always helpful for our practice.  The more reviews we have on Google the more likely we are to show up on the first page of Google searches when people are looking for chiropractors, massage therapist or physical rehabilitation near North Olmsted.  So after you've read our reviews and come to see us, please consider leaving us another review to make it easier for another patient to find Superior Spine Care in N. Olmsted.
Our Integrated Approach to Spinal Care
At Superior Spine Care we advocate for an integrated approach to spinal care and recovery by having all three professionals here to help you with pain management, recovery, rehabilitation and performance. Whether you have been in an accident, suffer from a condition, are a high-performance athlete or a hard-worker, we use the skills of our team: chiropractor, massage therapist and physical therapist to get you back to peak performance without the pain.
Reduce Pain, Improve Performance & Rehabilitate
Start today by scheduling a patient evaluation with our clinic's director and chiropractor, Dr. Neil Wensink, who will evaluate your pain, discomfort or injury and prescribe a comprehensive care approach including whichever chiropractic care, massage therapy or physical therapy for optimal treatment.